Your Fundraiser for Pet Partners Changes Lives
When you raise money for Pet Partners, your contribution makes therapy animal visits possible. Donations support many extraordinary programs, including:
Over 13,000 active therapy animal team registrations.
More than three million therapy animal visits per year to facilities such as hospitals, nursing homes, schools, VA centers, and many more.
One of the most rigorous therapy animal team education programs in the country.
The launch of our Animal-Assisted Crisis Response Program, which will connect therapy animal teams with those in need during crises and disasters.
Expansion into 11 countries internationally, touching lives beyond the United States.
Beyond our global large-scale impact, your gift makes incredible therapy animal visits possible. Your fundraiser supports visits like these...
"One of the most rewarding parts of being the first therapy cat team in northeast Florida is watching hospice patients' faces light up when they see Sooshi, my Pet Partners therapy cat, walk in. A primary focus of animal-assisted interventions is to pleasantly distract an individual who is going through a difficult illness or situation, even for just a few minutes. There is no greater privilege for me than to be able to give someone in distress a few moments of peaceful interaction with both Sooshi and me. We are on this earth to be of service to others and the highest calling for me is to be a comfort to others in their final days. Some people have asked how I can be around such a depressing environment; when Sooshi and I enter a room, the look of delight on people's faces is priceless." -Lorri, Sooshi the therapy cat's handler.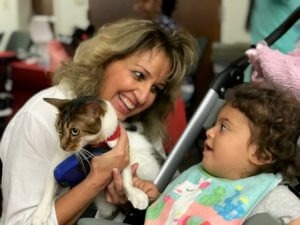 "My therapy dog, Quincy, and I visit at MacNeal Hospital with the behavioral health team. We have received incredible feedback from patients:
"I didn't think I could smile again… and now I can feel myself beaming."
"It's like all my anxiety went away."
"This was meant to be. I needed this more than I could explain."
"We all are connected, it's important to remember we aren't alone."
Reviewing these comments made me think about why Quincy and I do what we do. Quincy has the ability to take away stress and anxiety utilizing his laid-back attitude and his cute belly, which is always in need of a good rubbing. Sharing the benefits I receive from Quincy makes others happy and calm. I never knew how important and special he is. His ability affects not just the patients–it provides therapy to me as his handler and the staff at the hospital too." - Tom, Quincy the therapy dog's handler.